Why Buy from Hiley Buick GMC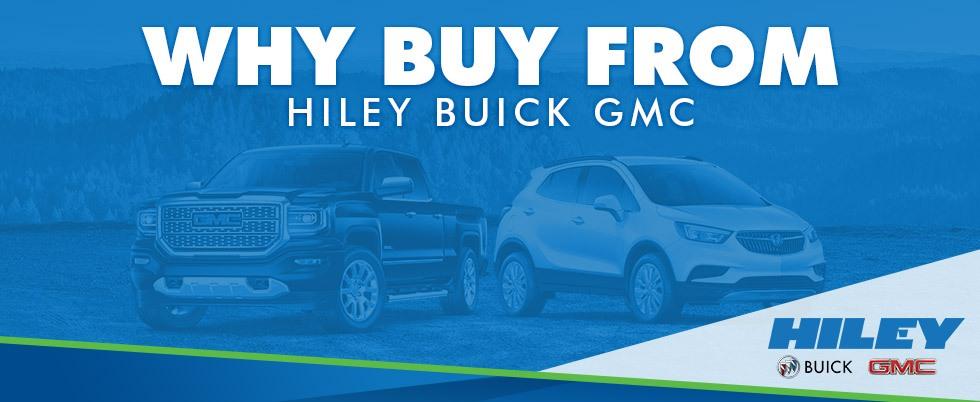 Family­ Owned Community Dealer
If you're looking for a dealership that treats you like a valued customer and family member, then look no further. At Hiley Buick GMC of Fort Worth, our goal is to provide convenient, fast, and thorough service for all your needs. Below are reasons to consider partnering with us on all your vehicle needs.
The Hiley Automotive Group has been family-owned and operated by members of the Fort Worth community since 1990. We own 10 franchises, operate in two states, and stock many new vehicles. If you're looking for pre-owned vehicles, we have plenty for you to consider and can help you find the vehicle you want today. As a family business, we understand exactly what it means to bring family-oriented services to you. As active members of the Fort Worth community, we're happy to partner with many organizations in various community endeavors. These organizations include:
Western Hills Primary School
Fort Worth Texans Baseball Club
Nolan Catholic High School
Buick Drive for Your Students
All Saints' Episcopal School
Botanical Research Institute of Texas
Saving Hope Foundation
Casa of Tarrant County
Fort Worth Police Department
V. R. Eaton High School
R. L. Paschal High School
Benbrook Middle-High School
Toys for Tots
Rivertree Academy
Aledo High School
Fort Worth Fire Department
World Hope
Convenience with You in Mind
At Hiley Buick GMC of Fort Worth, we understand what you need from our services, so we use this information to make your visits as convenient as possible. First, we service all makes and models of vehicles in one location. Second, we offer you convenient hours and are open on Saturdays. Third, while your vehicle is being serviced, we offer shuttle services, rentals, and loaner cars so you can continue with your business. Fourth, we offer online service scheduling 24/7 so you can make a request during the day or night and receive services as soon as possible.
Fifth, we also offer competitive prices on all repairs to help you save money while receiving excellent service. Sixth, we have several financing options for any large-scale repairs you may need for your vehicle, helping it get repaired sooner and relieving the stress of paying for expensive repairs. When you bring your vehicle in, we also offer a free diagnostic test for your engine lights.
Lastly, while on our premises, you can enjoy our amenities such as complimentary gourmet coffee, free Wi-Fi, a free car wash with every service, and a children's play area to keep your little ones engaged while you wait for repairs in our customer center.
Long-Term Services Available for You
We're committed to quality: Hiley Buick GMC of Fort Worth provides long-term services to keep you safe and confident on the road. These services include free pit stops for life, where we will check and adjust your tire pressure and refill your vehicle's oil, coolant liquid, and other vital fluids. Hiley Buick GMC of Fort Worth also offers a complimentary lifetime 21-point inspection and safety check with every service visit, all of which we document on CARFAX to increase the resale value of your vehicle if you want to sell it in the future because we make its history available.
Besides the long-term services for your current vehicle, we also offer you total confidence on our pre-owned vehicles by going through a rigorous 125-point inspection to guarantee their safety and performance quality. Along with this service, we give you a free history report on every pre-owned vehicle you purchase from us. Finally, we offer you peace of mind with our OEM parts and repairs guarantee. This guarantee states that for 12 months or 12,000 miles, you have a warranty on all OEM parts we install in your vehicle. We want to make sure you have everything you need.
Long-Term Services Available For You

At Hiley Buick GMC, we care about you, our other customers, and our staff. When you visit and experience our complimentary services and the expertise of our trained specialists, you'll know you're in good hands. At our location, over the phone, or online, you can speak with our dedicated customer care center, friendly service advisors, and sales team. When you bring your vehicle in for repairs, you can talk to our factory-trained GM technicians.
According to many of our customer reviews, we provide four- and five-star quality services across all departments. Why miss out? Visit us today to learn how we can help you.

Benefits of Buying from Hiley Buick GMC of Fort Worth

There are many benefits you can enjoy when buying a vehicle from Hiley Buick GMC of Fort Worth. To start, we offer new GMC and Buick vehicles and an extensive selection of certified pre-owned vehicles, making it easy for you to find your perfect match. Whether it's a car, truck, or SUV, we have something for everybody. Another benefit of buying from us is that we can give you special financing offers today. We partner with several banks and other lenders so you can find a financing option that matches your exact needs.

It's All About the People
Because we rely on our reputation as a family-owned and locally operated business, you can trust us to understand our community's needs. As part of the Hiley Automotive Group, excellent customer service, quality repairs, and thorough inspection are the things we pride ourselves on. With over 22 years of experience, you can count on Hiley Buick GMC of Fort Worth to meet your needs today. We hope you will choose to work with us: We're excited to help you become a part of the Hiley family tradition.
Are You Looking for Our Services?

We are happy to offer our new and pre-owned inventories, our parts and service center, and our team of experienced and friendly professionals to help you find what you need. You can use our contact page to help you set up an appointment. We look forward to hearing from you.
Factory-trained GM technicians
Dedicated Customer Care Center
Friendly and knowledgeable service advisors
Certified GM product and sales specialists
Most of our great customers have given us review ratings of above 4 stars
Top Amenities for Your Visit
Complimentary gourmet coffee
Complimentary car wash with every service