Benefits of GMC OEM Parts
The Benefits of GMC OEM Parts At Hiley Buick GMC of Fort Worth
With diverse, powerful vehicles and access to upscale features, GMC lives up to its slogan, "We are professional grade." Maintaining your vehicle requires careful driving and proper service and replacement parts. Genuine GMC parts have been produced to the exact specifications of your vehicle, and we're the best place in Fort Worth to buy them. Check out the information below about GMC original equipment manufacturer (OEM) parts, which you can find on special and get installed quickly at Hiley Buick GMC of Fort Worth.
What Are OEM Parts?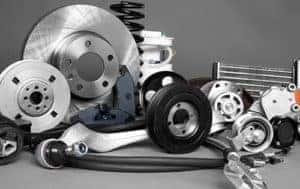 OEM parts are standard equipment that automakers specifically design for a certain model. For instance, General Motors creates components for all models by Buick, GMC, and Chevy. These include every component of a car, whether it's an engine, electrical systems, or even just a replacement seat cloth.
Why You Should Use GMC OEM Parts
When your GMC was first built, it was made with the same kind of parts that you'd be purchasing when you order OEM gear from us. You can be confident that it's from the same location and involves the same materials and design. You could also find non-OEM or aftermarket parts that closely imitate what you need. These are less expensive than OEM parts, sometimes, but they may not fit perfectly.
Often, aftermarket equipment is designed to apply to a wide variety of makes and models. As a result, the part may not be an optimal fit for your GMC. Additionally, you may find other problems if you order these parts, such as installation difficulty or bad return policies. In the long run, your car, truck, or SUV will benefit from staying with genuine OEM GMC parts for the following reasons:
The Perfect Fit
To ensure that every component of your car functions properly, designers and engineers took their time constructing each model. When you use authentic GMC parts, you can rest assured that they will be easy to install and will fit your car perfectly. If you don't intend on doing the removal and installation yourself, that also means our expert team can get the job done faster, saving you on labor costs compared to other GMC service centers.
Guaranteed Quality
When you use a genuine part, you can be confident that it's of the highest quality. When you order components from the manufacturer through a dealership, you'll also receive a warranty and support just in case an issue crops up.
Reliable Ordering
When using aftermarket parts, it may be challenging to locate and acquire the appropriate component. By contrast, shopping for the same part as the one you had is infinitely simpler. Through a local dealership, such as Hiley Buick GMC of Fort Worth, you may order components with the confidence that they will fit your car.
Why You Need to Maintain Your GMC
Regular auto maintenance is important for many reasons, especially if you want to keep your car's market value high, so you can eventually sell or trade it. Other notable reasons include:
Cutting down automotive maintenance costs.
Keeping fuel economy and capability levels up.
Avoiding the stress from unfixed mechanical issues.
Reducing the risk of accidents or roadside assistance calls.
Enjoying a great-looking, fun-to-drive GMC.
You can check the schedule in your car's owners manual or by asking the team at our GMC-certified service department. Making sure you comprehend and follow a maintenance schedule is very valuable, and you'll be glad you booked every appointment at Hiley Buick GMC of Fort Worth.
How To Save Money on GMC Maintenance
Every car needs a little attention at some point, but the expense of routine GMC maintenance and repairs can be minimized in several ways. See our advice on avoiding pricey or unnecessary repairs below:
Drive Cautiously
There are several advantages to driving safely, some you may not have considered. Not only do you lessen your chance of being in an accident, but you can avoid actions that take a greater toll on your car. Speeding and abrupt braking add to the vehicle's wear and tear, costing you more in the long term.
Buy OEM GMC Parts From a Dealer
You'll get the best access to a perfect-fitting, optimal replacement part, accessory, or anything else you may need. If there are quality concerns, our generous warranty coverage will protect you.
Never Tow or Haul Above Capacity
You can cause additional damage and wear the more you burden a vehicle. Knowing your vehicle's maximum payload and towing capacities is crucial for keeping your cargo and car or truck in good condition. Overloading, even for a short time, could lead to issues, such as a brake system failure, a damaged suspension, blown tires, and engine overheating. Check your truck's gross vehicle weight rating and gross combination weight rating twice before carrying or towing anything.
Don't Ignore Dash Warning Lights
The check engine light is a sign that you may be due for service and responding in time will help avoid more costly services or repairs, such as replacing GMC engine parts. If you know you have no gas cap or sensor issues but continue to see the check engine light, make an appointment for service immediately.
As a bonus tip from the team at Hiley Buick GMC of Fort Worth, be sure to grab one of our service offers. If you require a routine oil change, brake rotor resurfacing, or a GMC part replacement, we might be running a deal that could save you money.
Buy GMC or Buick OEM Parts in Dallas
It's crucial to obtain proper GMC parts, whether you're thinking about performing maintenance, fixing post-collision repairs, or simply adorning your car with new accessories. You can make sure you're getting the appropriate component at a reasonable price by ordering from our parts department. If you don't need our installation services, just order online and have it delivered right to your home. Alternatively, if it's time for your next regular maintenance checkup, make an appointment today, and bring your car in to get high-quality Buick or GMC components installed in record time.