My GMC App Center
The rise of mobile apps to monitor and control vehicles is transforming how we interact with our cars. Leveraging technological advancements, automotive companies such as GMC have developed mobile applications that empower users to access and control their vehicles remotely. The myGMC app provides a range of functionalities, from starting the engine and locking doors to monitoring vehicle status and scheduling maintenance.
The seamless integration of the myGMC app with your GMC vehicle will enhance convenience, safety, and your overall user experience. Read below for more information on what it is, how it works, and what you can use it for.
What's the myGMC Mobile App?
The myGMC app is a software application developed for smartphones by GMC. The myGMC app allows users to access and control certain features of their GMC vehicles remotely. You can start and stop your vehicle's engine, lock and unlock doors, view vehicle status information, monitor tire pressure and fuel range, and schedule service appointments. Please note that some features require additional software or equipment. The myGMC app provides convenient and intuitive control over various aspects of your GMC vehicle using a compatible smartphone or tablet.
What Can I Use the myGMC Mobile App For?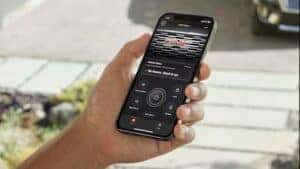 The myGMC mobile app lets you monitor and control your vehicle from your smartphone. It also offers several educational and convenient features to improve your GMC ownership experience. Check out some of the highlights.
Remotely Access Your Vehicle
Combined with a Remote or Unlimited Access Plan subscription (purchased through GMC Connected Services), the myGMC app transforms your smartphone into your GMC vehicle's virtual key fob, regardless of physical proximity. You'll enjoy an array of controls at your fingertips by simply tapping the Remote Commands/Key Fob button within the app.
This function allows you to conveniently lock and unlock your car, trigger the horn and illuminate the lights to easily find your vehicle, or remotely initiate the engine start (as long as your vehicle is equipped with the necessary equipment). This seamless integration between your smartphone and GMC vehicle offers enhanced control, ensuring heightened security and more comprehensive convenience in your vehicle ownership experience.
Keep Tabs on Your Vehicle
The myGMC app, in conjunction with a current Remote or Unlimited Access Plan, offers comprehensive vehicle monitoring capabilities no matter where you're located. Within the app, the Vehicle Status card provides a convenient overview of essential vehicle information, including odometer readings, tire pressure readings, engine oil life measures, fuel level and range, and average economy.
If you have an active Remote or Unlimited Access plan, the myGMC app includes location features that offer GMC owners real-time insights into their vehicle's location and enhance convenience when remembering parking spots around Fort Worth, Texas. By selecting the Parked Location/Location Services button, users can access the general location and nearest address to where their vehicle is parked.
This feature also includes a range of helpful tools for parking management. For instance, if you use a meter while parking, you can set the app's built-in timer to receive reminders about when your time will expire. When you park your vehicle in a parking garage, the app makes remembering the precise floor or designated area in which you parked easier by adding text notes or saving photos as reminders.
Manage In-Vehicle Wi-Fi Settings
In GMC vehicles fitted with an optional in-vehicle Wi-Fi hotspot and for users who maintain an active Long-Term Evolution data plan for the hotspot, the myGMC app can provide seamless management of your hotspot settings. You can conveniently review data usage and personalize your network service set identifier username and password according to your preferences. Any modifications you make within the app will automatically apply to your vehicle's hotspot the next time you start your engine, ensuring a hassle-free connectivity experience.
Easily Access Your Owners Manual
You won't need to dig for your owner's manual in the glove compartment or center console anymore. The myGMC app offers a dedicated Owners Manual tab that makes accessing vehicle information, user guides, and other valuable troubleshooting information easier. This tab is your go-to resource for information about malfunctioning indicator lamps, setting up vehicle technology features, service intervals, or other topics.
Furthermore, for certain vehicles, the myGMC app provides a How Things Work/Watch and Learn button that presents a collection of short instructional videos illustrating the usage of specific features. This comprehensive knowledge hub within the myGMC app ensures that answers and instructions are readily available whenever needed.
Schedule Service
You no longer need to worry about remembering to contact your favorite GMC dealer for a service appointment. With the myGMC app, it's as easy as tapping the Vehicle Service/Schedule and Manage Service card. The app allows you to select your preferred GMC dealer and swiftly identify GMC service centers in your area if you're not near your preferred dealer.
With the myGMC app, you can schedule a range of essential vehicle services, such as maintenance services, engine oil changes, tire rotations, and more, in seconds. Take charge of your vehicle's upkeep effortlessly through the myGMC app, eliminating the hassle of remembering and making phone calls for service appointments.
Get Roadside Assistance
Receiving roadside assistance has never been easier with the myGMC app. This handy feature is available for new vehicle owners for their first five years or 100,000 miles and GMC owners with a current OnStar Safety and Security plan. To request assistance, tap the Roadside Assistance button. Whether you require towing or jump-starting services, a tire change, or other roadside aid, you can rest assured knowing that help is just a tap away.
Have Additional Questions? Hiley Buick GMC Can Help

Our Hiley Buick GMC of Fort Worth team prides itself on staying current on all the new and interesting technology features that GMC releases. If you've got questions about the myGMC app or other features of your GMC, feel free to give us a call or stop by the dealership. And if you're in the market for a GMC, be sure to check out our inventory of new and pre-owned vehicles.