Quality Tires near FORT WORTH, TX
The way your vehicle handles the road begins with the tires. Whether you are in the market for tire repair or replacement, our Certified Service experts can handle all of your tire needs. Use our
Tire Finder Tool
to start shopping for tires - simply enter your vehicle's year, make, model, and tire size. Not sure about your tire size? It's the combination of letters and numbers located on the side of your tire. Once you've selected the right set, schedule an appointment at Hiley Buick GMC of Fort Worth.
Tire Price Match Guarantee
Provide us with a better eligible* price at the time of purchase and we'll match it. Find a better price within 30 days of the purchase, and we'll refund the difference.
Eligible Tire Brands: BFGoodrich, Bridgestone, Continental, Dunlop, Firestone, General, Goodyear, Hankook, Kelly, Michelin, Pirelli, and Uniroyal.
Ad, written estimate, or Internet quote for identical tire(s) from a competing tire retailer/installer located within 100 miles of the dealer required during guarantee period for price match. At Participating Dealers Only. Offer ends 12/31/2022.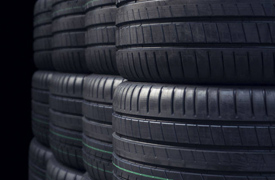 What Causes Tire Wear
If your tires are worn, you'll notice a change in ride, handling and performance. There are many factors that can cause tire wear, such as your driving style and tire maintenance habits. Tire replacement is absolutely needed when the tread wear indicators appear. Built-in tread wear indicators look like narrow strips of smooth rubber across the tread and become visible as the tire surface wears.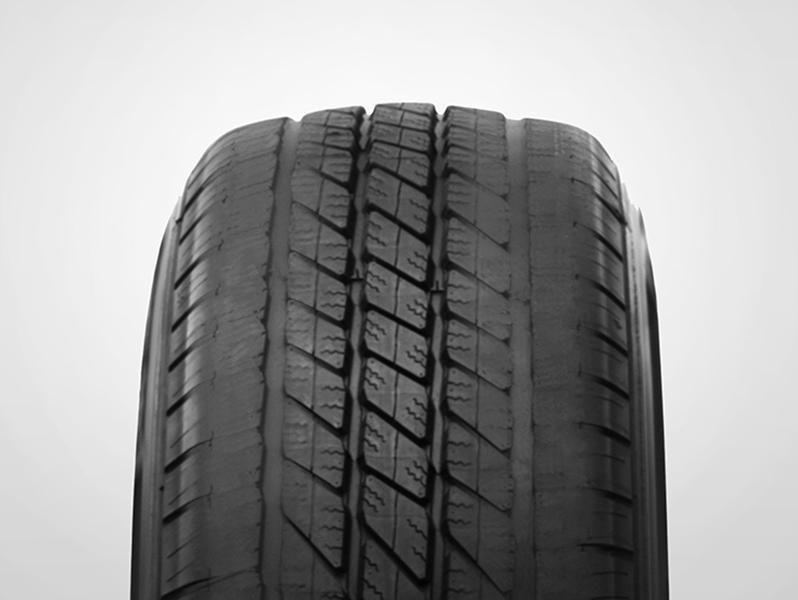 Measuring Tread Depth
Our Certified Service experts use diagnostic equipment to help keep your vehicle performing at its best, but there is a reliable tool you can use to check your tire wear that doesn't require a computer. Take a penny with Abraham Lincoln facing you, head pointed down and put it in the center of the tread at the thickest part. If you can see the top of Lincoln's head, the treads are worn and tire replacement is needed.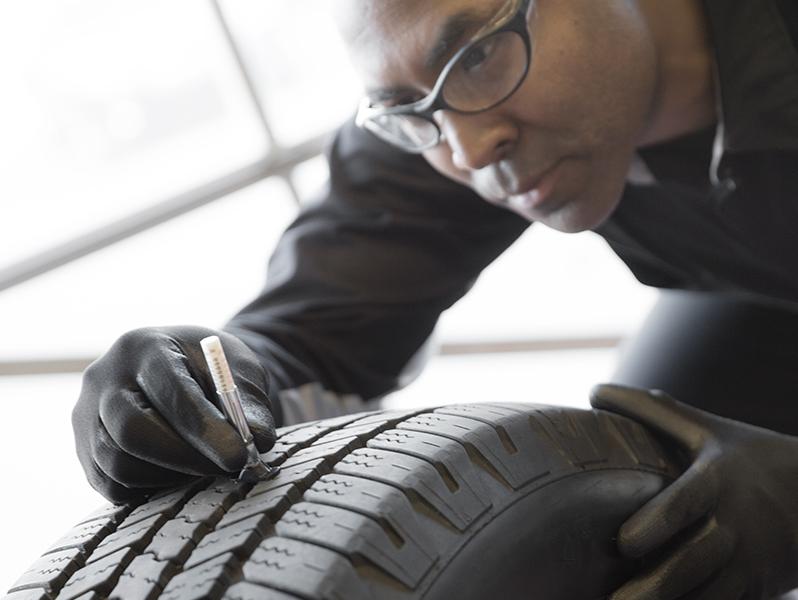 When To Replace Tires
Tread wear indicators appear when the tires only have 2/32" or less of tread remaining. Rubber in tires ages over time. Other warning signs include:
You can see three or more tread wear indicators around the tire

The tire cord or fabric is showing through the rubber

The tire tread or sidewall is cracked, cut, or snagged deep enough to show cord or fabric

The tire has a bulge or split

The tire has a puncture, cut, or other damage that can't be repaired correctly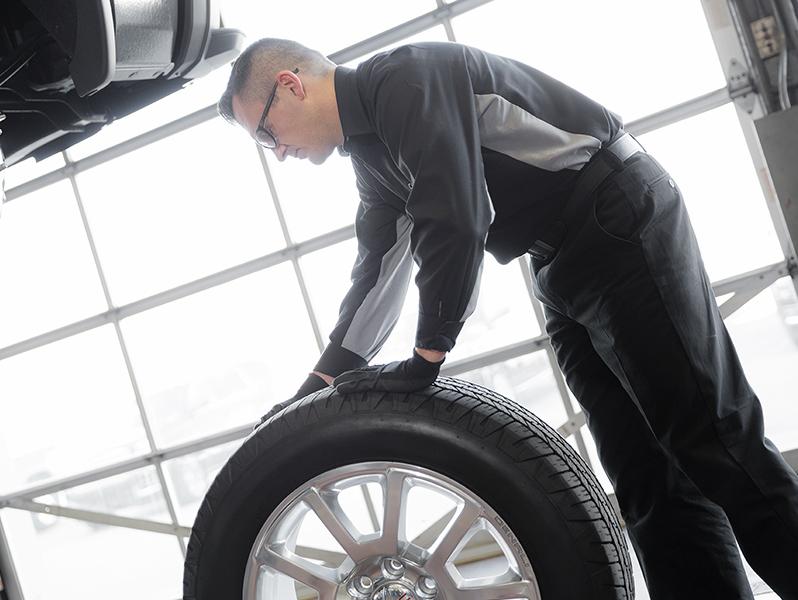 Wheel Alignment
Proper wheel alignment is key to prolonging the life of your tires. If your vehicle is misaligned, it can cause your tires to wear unevenly, and you may experience handling problems such as pulling or abnormal vibration.
Consider a wheel alignment check if there is unusual tire wear or the vehicle is significantly pulling to one side or the other. A tire that is out of balance often affects ride quality and can shorten the life of tires, bearings, shocks, and other suspension components. If the vehicle is vibrating when driving on a smooth road, the tires and wheels may need to be rebalanced.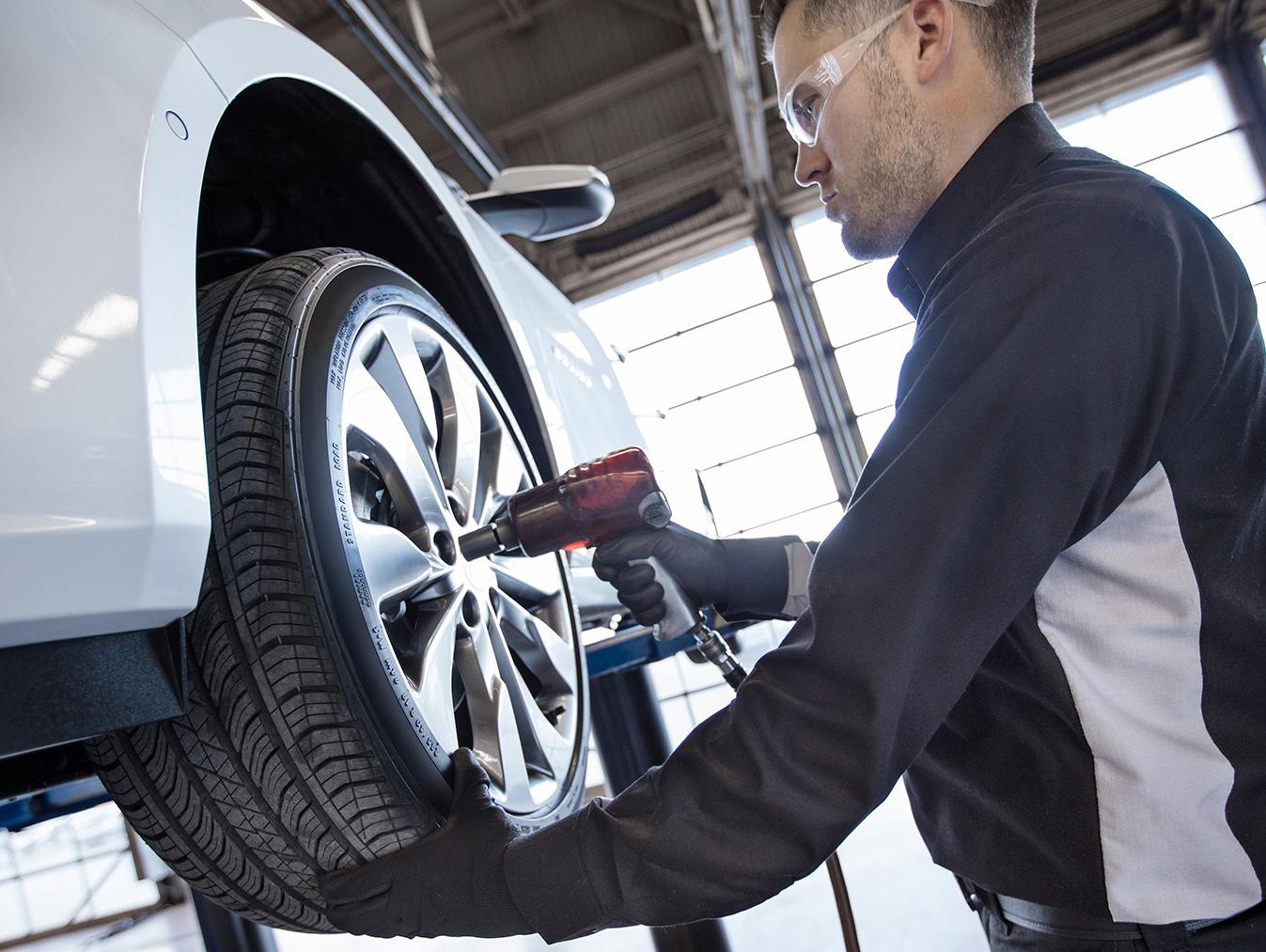 Tire Rotation
It's a known fact that regular tire rotation extends the life of your tires and improves performance. Tires are rotated to achieve a uniform wear for all tires. Each tire performs different tasks (such as steering in front- versus rear-wheel drive), therefore tires wear at different rates. Tires should be rotated every 7,500 miles to prevent irregular tire wear.
It's important to rotate your tires according to the correct tire-rotation pattern. Doing so will prolong the life of your tires and will reduce the risk of sudden tire failure. Front tires encounter different tasks than the rear tires. A front-wheel-drive car's tires perform different tasks than those on a rear-wheel-drive vehicle.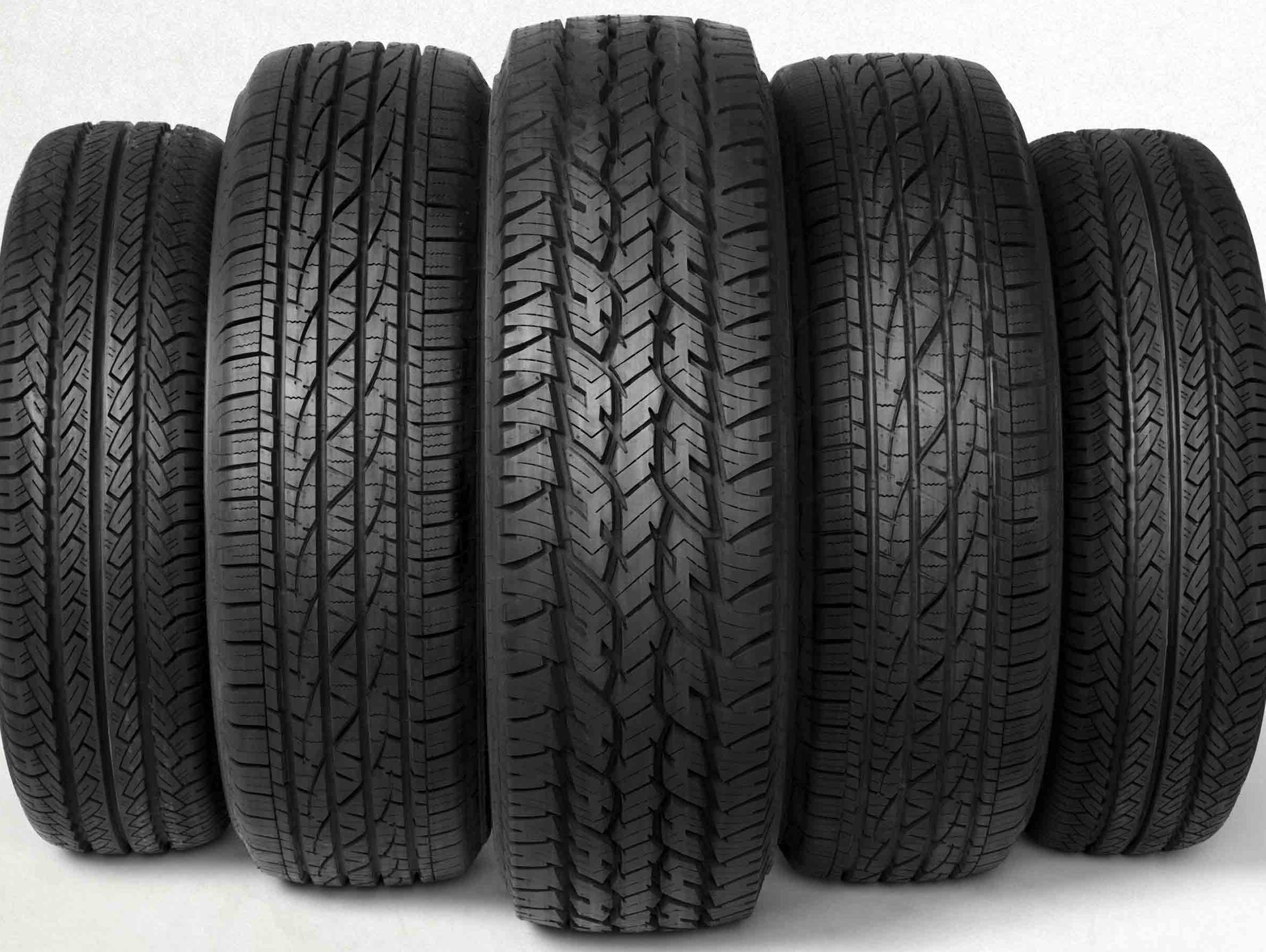 Tire Pressure
Check your tires at least once a month when the tires are cold, meaning the vehicle has not been driven for at least three hours or no more than 1 mile. The Tire Information Label located on the inside of your doorframe has the recommended cold tire pressure for your vehicle.
Inflation pressure maintenance of tires is critical for overall tire and vehicle performance. Maintaining the correct inflation pressure allows the tire to perform as intended, including for comfort, fuel economy, stopping distance, cornering, traction, tread wear, and noise.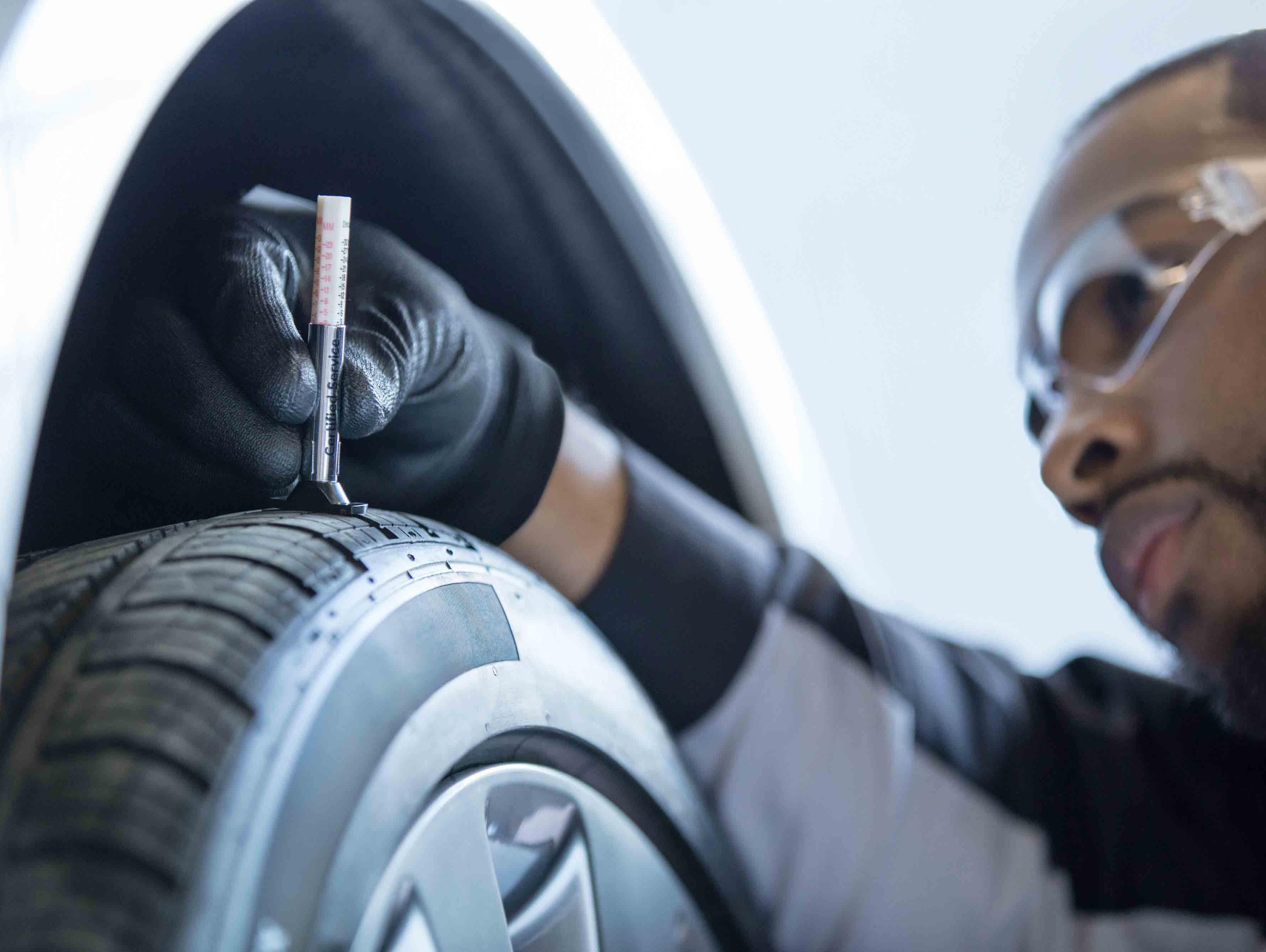 Tire Pressure Monitoring System
If your vehicle is equipped with a Tire Pressure Monitoring System (TPMS), it is constantly working and will alert you when your tire pressure is not where it should be. A sensor measures tire pressure and temperature, then transmits data to the tire-pressure monitor. If the pressure in one or more of your tires is 25 percent or more below the vehicle manufacturer's recommended cold inflation pressure for tires, a warning indication will alert the driver.
If the Tire Pressure Monitor light comes on and stays solid with a check tire pressure, low tire pressure, or add air to tire message, then check and adjust all tire air pressures to the recommended levels. Next, drive the vehicle to turn the light off.
If the Tire Pressure Monitor light appears as a blinking yellow lamp for more than one minute and stays solid, then diagnostic service is needed. If your TPMS is not functioning properly, it cannot detect or signal a low-tire condition. Your Original Equipment TPMS sensor battery can last up to 10 years with normal use. When the TPMS battery fails, the sensor will need to be replaced.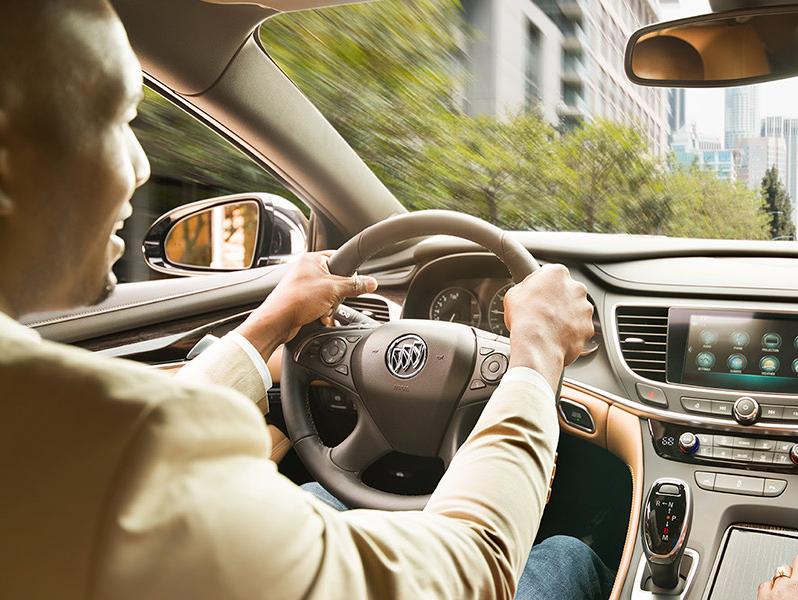 Tire FAQ
Q: Why is tire rotation so important?
A: Each tire on a vehicle performs a different task, causing them to wear at different rates. Regular tire rotation allows tires to wear evenly, maximizing tire life and allowing tires to be replaced in sets of four, which is preferable.
Q: Why is tire pressure important?
A: Improperly inflated tires are a leading cause of tire failure. Proper tire pressure helps a tire have optimum tread contact with the road, which improves traction and braking and reduces tire wear. Underinflated tires generate heat, which is the tire's worst enemy, so maintaining the right amount of air keeps temperatures where they should be.
Q: How will I know when I need new tires?
A: You'll need new tires when the tread wear indicators—called wear bars—appear. These wear bars look like narrow strips of smooth rubber across the tread and appear when it's time to replace your tires. If you can see three or more tread wear indicators, you should replace your tires. Other ways to know when to replace your tires include cord or fabric showing through the rubber, cracks or cuts in the tread or sidewall deep enough to show cord or fabric, bulges or splits in the tire, and punctures or damage that cannot be repaired correctly.
Q: There are a lot of places that sell tires. I need new tires. Where should I go to get the right tires for my GM vehicle at the right price?
A: Our Certified Service experts can recommend tires that are right for your vehicle, your driving habits, and your budget. You can start searching for new tires right now with our
Tire Finder Tool
above. It's a quick and easy way to find tires for any vehicle. Once you've selected the right tires, you can schedule an appointment. We employ factory-trained technicians who use state-of-the-art technology and equipment to help keep your vehicle running like new.
New Tires At Hiley Buick GMC Of Fort Worth
Good tires are critical to safe driving. Picking the right set is essential for maneuvering whatever road and weather conditions you choose to drive in. They can also be a costly investment and worth the time you spend researching the correct sizing, best type, and kind of tire.
It's important to see your tires as more than just the rubber that meets the road. Your choice of tires can significantly affect handling, noise, and ride quality. In fact, tire design is so critical that General Motors has teamed up with many tire manufacturers to establish design standards for specific cars.

Whether you're in the market for winter, summer, or all-season tires, our team can handle all your tire needs. Even better, Hiley Buick GMC of Fort Worth technicians are GM-trained and authorized experts, so we know each model's perfect size and brand.

When To Repair or Replace Your Tires

It's important to know when your tires need replacement or repair. The GM-trained technicians at Hiley Buick GMC of Fort Worth can help you decide if your tires need repair or if buying new tires is the more suitable option. We endeavor to provide quick and professional service for tire replacements and repairs. So, when exactly should vehicle owners replace their tires, and when can they get away with having them repaired instead?
Tire tread depth. Brand new tires come standard with a tread depth of 10/32" to 12/32", with some off-roading tires topping 15/32". When your tires are worn to 2/32" of tread, they're deemed bald and at the end of their useful life. A tire's tread must be at least 2/32" deep to meet the legal safety standards in the United States. However, if you frequently drive in snow or rain, replace your tires when the tread depth is closer to 4/32". The best way to know whether to replace your tires is to have them inspected by a professional.
Tire age. All tires over ten years old need to be replaced, despite their appearance or usage. At this point, most tire interiors have dry rot or the tire components have weakened over time.
Tire damage. If your tires are damaged beyond repair, they ought to be swapped with a new set. This is often the case for large punctures, blowouts, sidewall damage, or bubbles in the tire.
Tire dry rot. All tires over six years old are prone to dry rot. So, if your tires present any symptoms of sidewall cracking, it's time for a replacement set.
Tire wear. If your tires are unevenly worn beyond correction, you need to have them replaced. Uneven tires can be unreliable and dangerous because of compromised handling and traction.
Some of these factors, such as dry rot, are best assessed by an expert. To you, a tire may seem okay, when in fact, it could pose a safety risk. At Hiley Buick GMC of Fort Worth, our GM-trained tire technicians are well trained in gauging tire safety. Visit us today, and we'll be happy to inspect, replace, or repair your tires as needed!


Tips and Tricks To Keep Your Tires Rolling Longer

To get the most out of your tires, ensure you're taking good care of them! Check out this list of effective ways to get the most out of your tires:

Wheel Alignment


Proper wheel alignment is key to extending the useful life of your tires. If your car is misaligned, it causes your tires to wear unevenly, and you could even experience handling issues like abnormal vibrations when driving on a smooth road and pulling to one side. Save on our current service special by scheduling a wheel alignment check for unusual tire wear or handling issues. An out-of-balance tire can affect ride quality and reduce the useful life of your shocks, bearings, tires, and other important suspension parts.

Tire Rotation


Frequent tire rotations will prevent your tires from uneven wear. A simple rule of thumb is to have your tires rotated every time you get your oil changed. Maintaining a tire rotation schedule will improve your tires' longevity and increase safety for you and your family. Contact Hiley Buick GMC of Fort Worth to schedule service today!


The front tires wear out faster than the rear owing to factors such as bearing all the weight of the engine and being on the steering axle. To ensure even wear, come to Hiley Buick GMC of Fort Worth for your routine tire rotations.

Under-inflated tires are an issue, as they can cause blowouts at high speeds, wear down tread, compromise handling, and reduce fuel efficiency. According to the National Highway Traffic Safety Administration, under-inflated tires are a major cause of tire-related collisions. On the flip side, over-inflated tires ride roughly, which also causes uneven tread wear and blowouts. Be sure to check your car owner's manual for the automaker's recommended tire pressure for all your tires, including your spare.

When it comes to your car, maintenance is essential, and so is the way you drive. Avoiding sharp cornering, driving too fast, or heavy braking will be better for your tires in the long haul. Ensuring you're relaxed when behind the wheel and driving smoothly at all times could also extend the useful life of your tires.
Our dealership in Fort Worth, Texas, holds a superb selection of high-quality Buick and GMC tires for your car. No one in the Dallas and Fort Worth regions better understands your auto needs than we do. Choosing the right set of tires for your ride can sometimes be a frustrating and time-consuming process. However, a large inventory at a trusted dealership like Hiley Buick GMC of Fort Worth can help you make the right choice.
The best part about shopping at our dealership is that you can save on our exclusive service and parts specials. Contact us or stop by our tire department in Fort Worth for an amazing experience! Be sure to check out our inventory of new and used cars, apply for auto financing, and use our helpful tire finder tool to make your search for new tires simple and efficient.